Create fast, super-engaging simple sketches to clearly visualize your

ideas
And look like a HERO in front of your... clients, colleagues, community or class...
Get SketchWow for a 1-Time Price
ZERO MONTHLY / ANNUAL FEES FOREVER
$468/YEAR
NOW: $49
Get SketchWow
Available For Windows & Mac computers
Get SketchWow for a 1-Time Price
ZERO MONTHLY / ANNUAL FEES FOREVER
$468/YEAR
NOW: $49
Available For Windows & Mac computers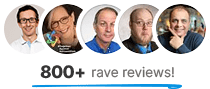 What makes SketchWow refreshingly different?
SketchWow is the perfect creative companion - so you can quickly condense and communicate your ideas, concepts and stories (in a clear and casual way)…. using a fresh & engaging, hand drawn look.

Once you use SketchWow…

You'll never create a typical DIE-a-gram or white-BORED ever again!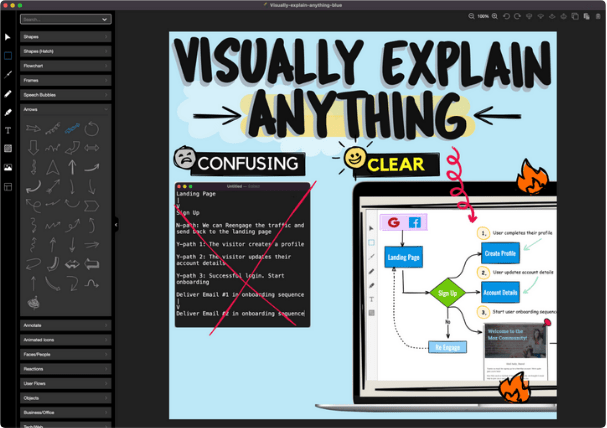 Get More Clicks, Likes, Shares & Boost Engagement & Retention Using Hand Drawn Style Designs
According to some experts... using casual "hand drawn" style graphics (like what SketchWow creates) to explain, present or emphasize key points and ideas... offers several advantages, including: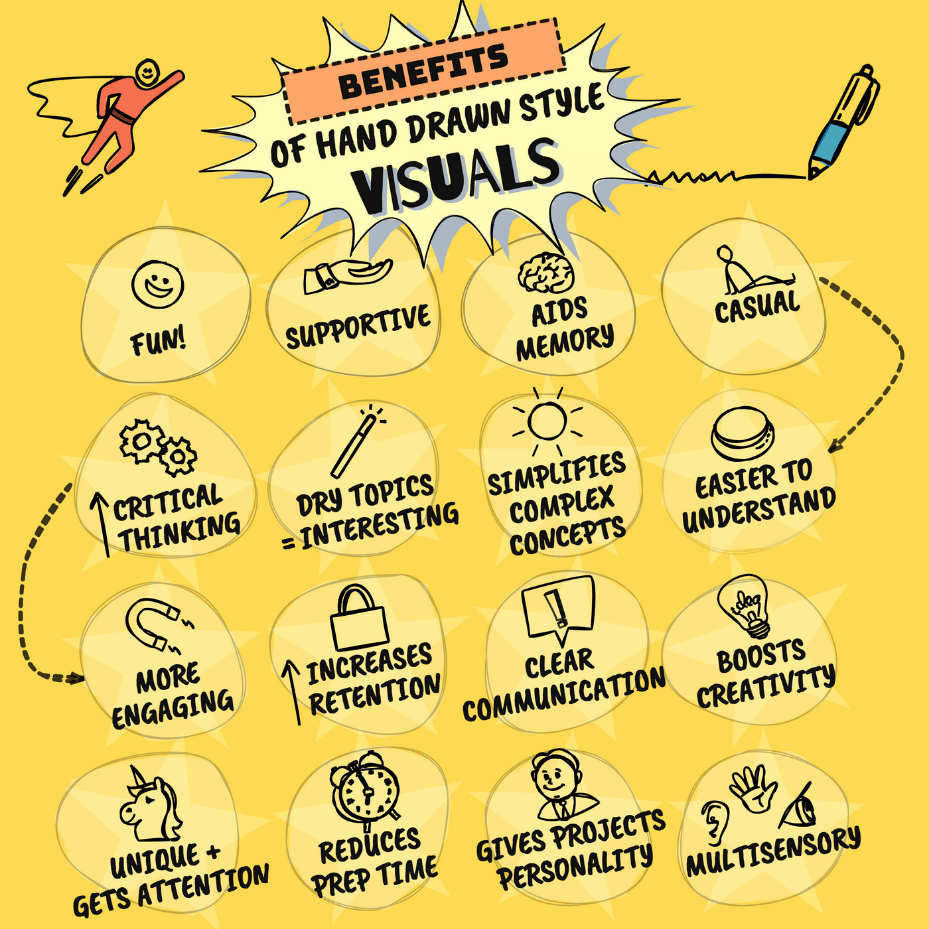 Introducing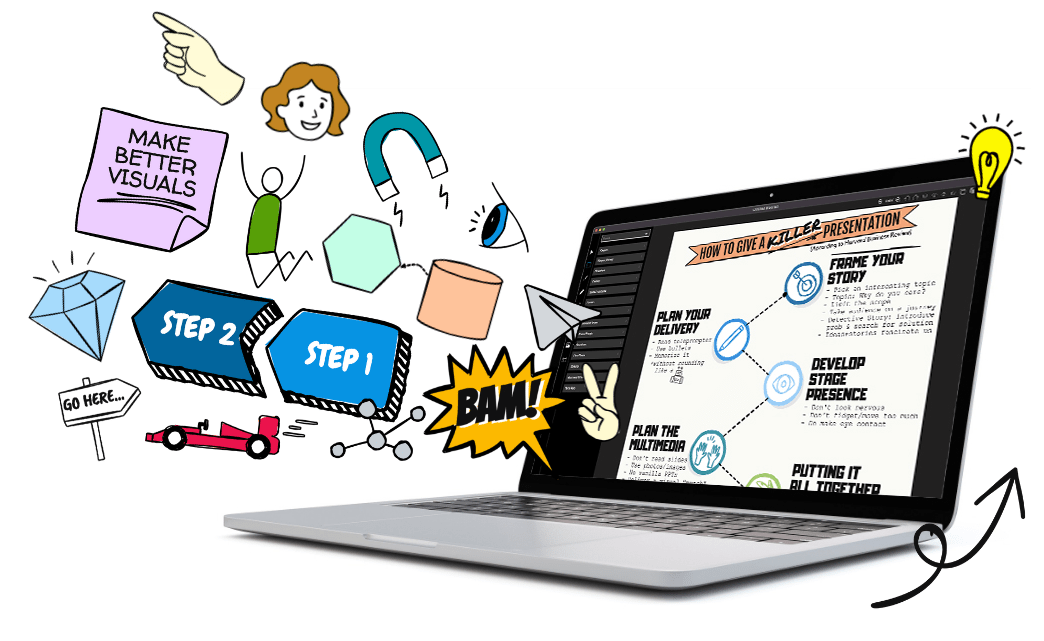 Here's a taste of the awesome templates waiting for you inside SketchWow...
0
Whenever You Want To Diagram, Explain, Present, Or Map Out... SketchWow Has An Eye-Catching Template For You
Nobody creates only one type of diagram or visual. That's why we loaded SketchWow with dozens and dozens of templates in a wide variety of categories. So you can use SketchWow to create all sorts of unique visuals, including:
Diagrams
Lessons
Handouts
Network Diagrams
Workflows
Presentations
Charts
Social Posts
Visual Notes
Mind Maps
Graphs
Timelines
Venn Diagrams
Process Maps
Infographics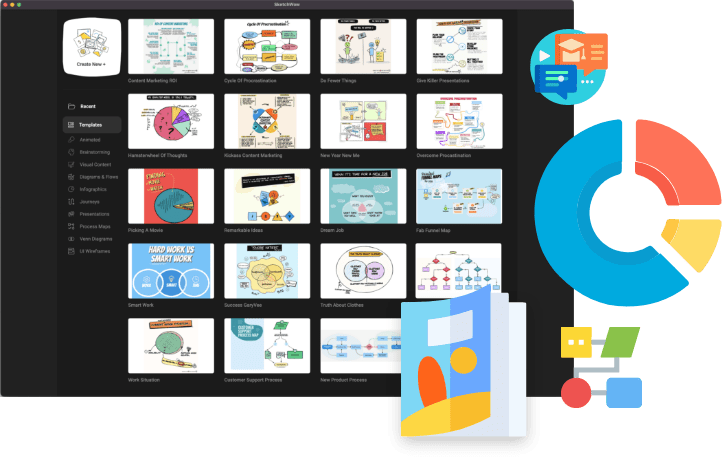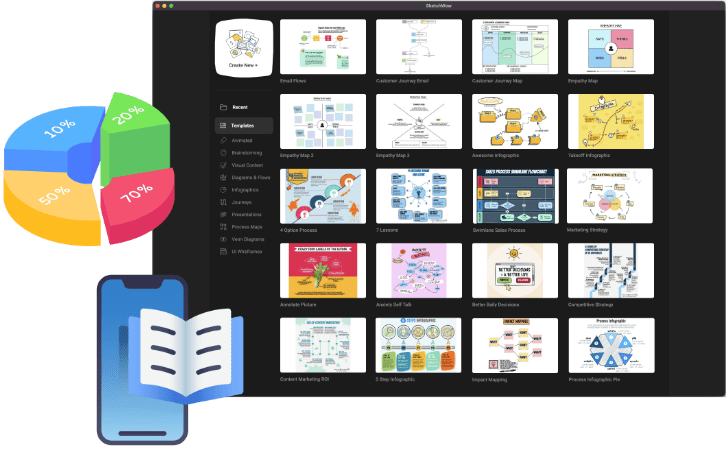 Animated Diagrams
Journeys
Empathy Maps
Funnel Maps
Visual Content
Meeting Summaries
Ads
Ebook Images
Prototypes
Video Thumbnails
Lo-fi Wireframes
Mockups
Brainstorms
Annotations
Not a Designer? Not a Problem!
SketchWow Makes It Super-Simple To Create Eye-Catching Designs...
Even For Non-Creative Types With Zero Tech Skills
Pick a Template. Crank-out a clear, catchy visual in 4 simple steps!
2
Choose a Template category
(or browse them all)
3
Pick a Template that catches
your eye (or copy/paste part of it
into a new Document)
4
Edit, Personalize. Choose from
hundreds of icons. Done!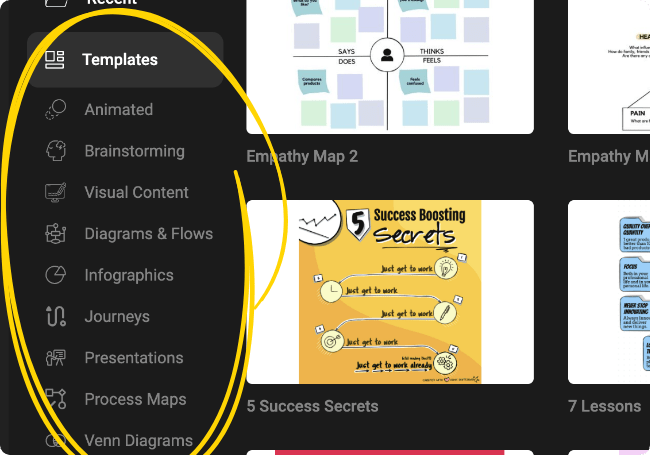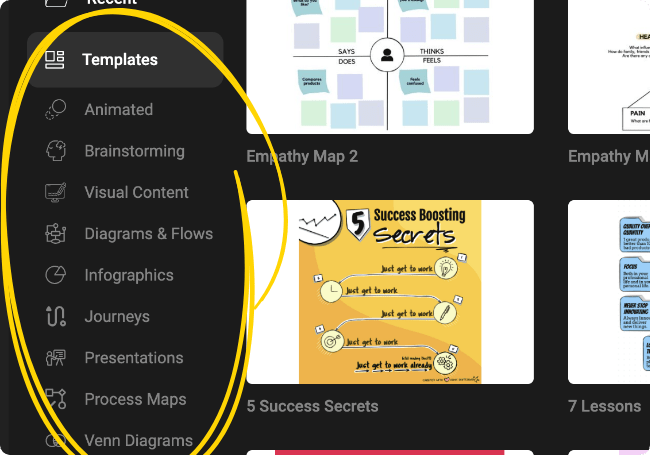 2
Choose a Template category (or browse them all)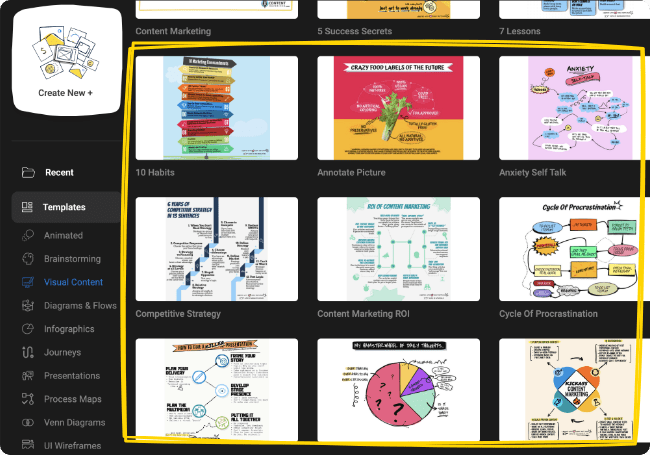 3
Pick a Template that catches your eye (or copy/paste part of it into a new Document)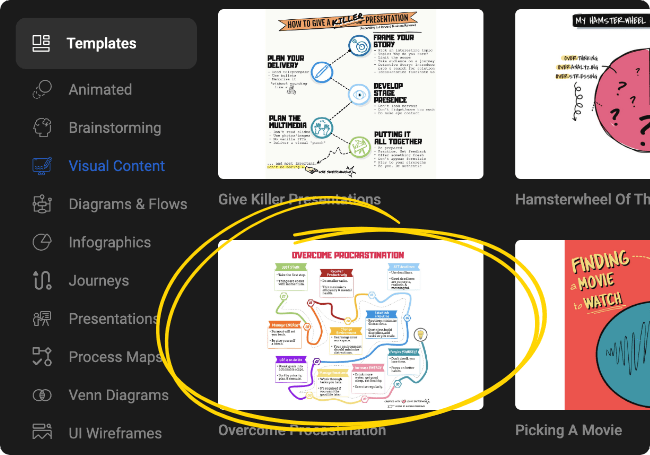 4
Edit, Personalize. Choose from hundreds of icons. Done!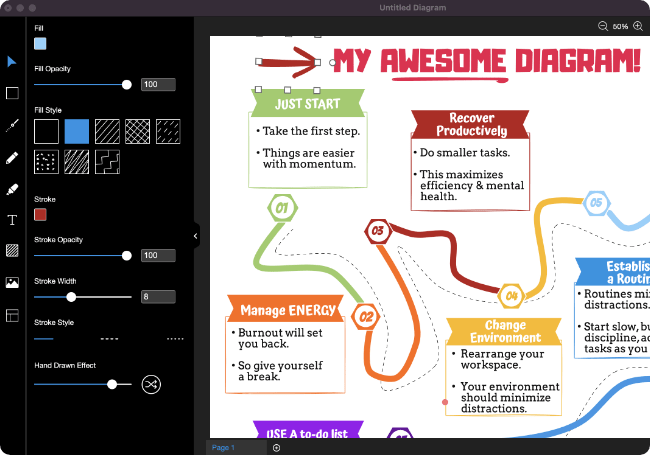 Final step? In 2 clicks... Copy-and-paste your design into your favorite apps. Or Export to JPEG, SVG, PNG, transparent PNG, PDF or animated GIF.
Within a few minutes, you'll have a unique diagram, content, process map, workflow or lesson to share with your audience.
Drop you new snazzy visual into an ebook, course, info product, document, blog post, webpage and more.
Use a preset or custom size
What's your use case? Instagram post, presentation or visual notes? Select from 19 handy preset or custom size you prefer.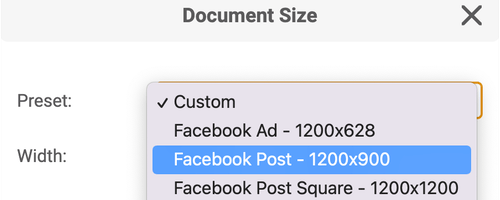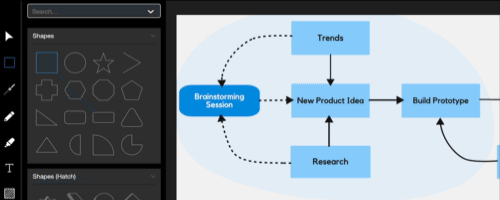 Select from hundreds of icons
Search & browse hundreds of elements (objects, arrows, frames, speech bubbles and more). Drag-and-drop them right onto the canvas.
Autodraw = Doodler's dream
Don't worry about being perfect. SketchWow fixes your messy mouse freehand. Hold down your shift key... watch the magic happen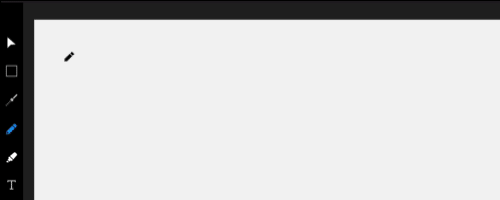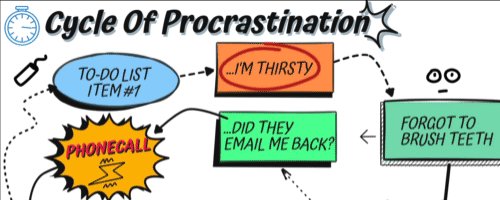 Add eye-catching animation!
Nothing adds extra zing to your designs like motion. Choose animated icons or add animated lines to really stand out
Keep it fun with characters
Use stick people & faces to add fun and emotion to your designs. Makes explaining dull topics waaay more interesting too!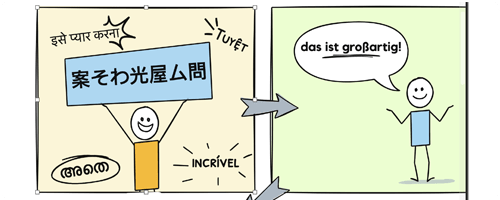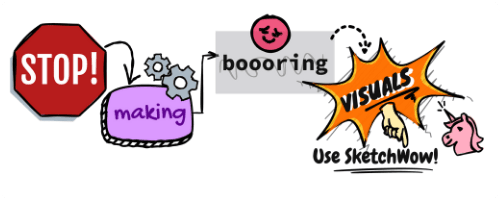 Customize with fonts and color
Choose from over 30 fonts or add your own (in your language). Use our handy color picker to match your favorite or brand colors.
Import images, photos, icons...
Markup a photo, add images or a logo to your design. 2 clicks is all it takes.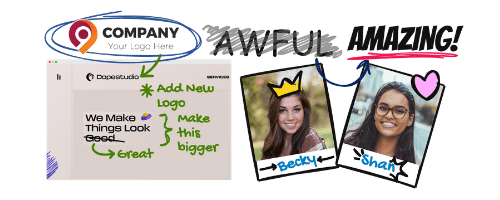 Keep It Traditional Or Use A Sketch-Effect?
With SketchWow you can create more "classic" looking diagrams. Or spice things up with a hand drawn sketch look. It's your call.
Depending on your audience, use case, client, project or job requirements... SketchWow has you covered.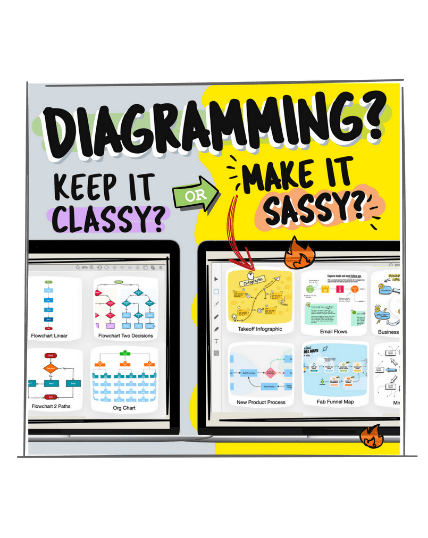 Or use SketchWow for fun stuff like mapping out your family tree. You'll never
run out of ways to use
it.
Add your SketchWow designs to:
eBooks (Physical Books)
Videos
Client Proposals
Courses
Training or Lectures
Marketing Materials
Lead Magnets
Social Posts
Internal Memos
Blogs or Websites
Presentations
Emails
Next Time... Reach for SketchWow
Brainstorm, Visually Explain Anything...
Scroll Stopping Social Posts, Blog Graphics, Charts & Animations...
Say "See-Ya" to Snooze-Fest Slide Decks...
Newsletters, Hand Outs, Advertisements, Lesson Plans, Technical Docs & More!
Makes white-boreds & zzzzz-Zoom calls way more engaging too!
SketchWow Helps You Grab-Attention With Visually Engaging Graphics...
47 seconds. That's the average attention span these days. Can you believe it? It's only getting worse....
Solution? Create designs with pizzaz and personality that really stand out.
Using SketchWow to create unique, handdrawn style visuals is the perfect way to cut-through-the-clutter and boost engagement... so you can be better seen and heard.
People from all over the world (in every language you can think of) love using SketchWow for personal projects, in the classroom and across dozens of industries, including...
Authors & Info Product Publishers
Did you know... There are 11,000 books published daily. 88% of those are non-fiction.
With steep competition like that... how do you stand out? Sprinkle some eye-catching visuals into your book or information product. Authors love SketchWow because they can create clear, casual designs that compliment their writing and summarize key points.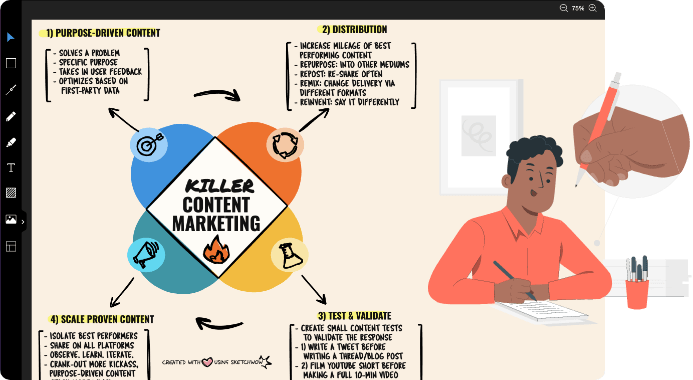 Unless it's a Stephen King novel... nobody wants to read a book or ebook with zero visuals (or typical circle and square designs). Talk about snooze-ville.
SketchWow comes pre-loaded with tons of gorgeous templates. This makes it real easy to find that perfect hand drawn visual to compliment whatever it is you are explaining or expressing in your book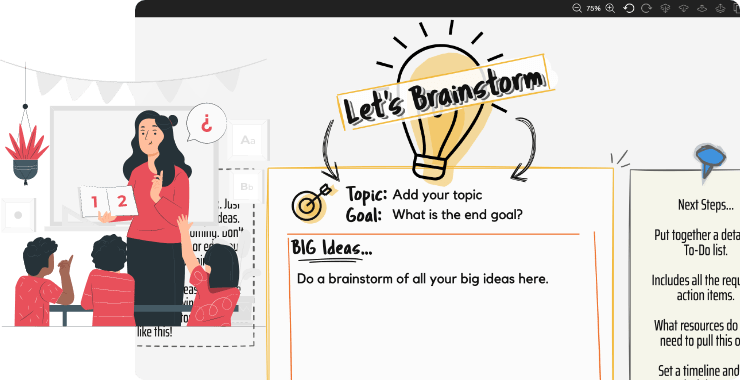 Trainers & Teachers (Students too!)
Delivering a lesson (in person or virtual) these days has its own set of challenges. Attention spans are shrinking in an overly-distracted world. How do you get people talking and interested in what you have to say? Create conversation-worthy handouts, visuals, lessons and slides.
Forget grabbing a typical "boiler plate" template. Those old-school visuals often get ignored. Try something fun, fresh and different that commands attention.
Teachers and educators across the world love how SketchWow helps to explain complex (sometimes dull) topics in a refreshing way. The casual nature of handdrawn designs gets your audience to listen and pay attention... because you are presenting information in a unique and interesting way.
Information Technology
Even though Network Diagrams and UML Workflows are more on the serious side... why not make them fresh and unique?
A growing number of IT Professionals choose SketchWow to map out their ideas, concepts, process and technical diagrams - from structure to behavioral and everything in between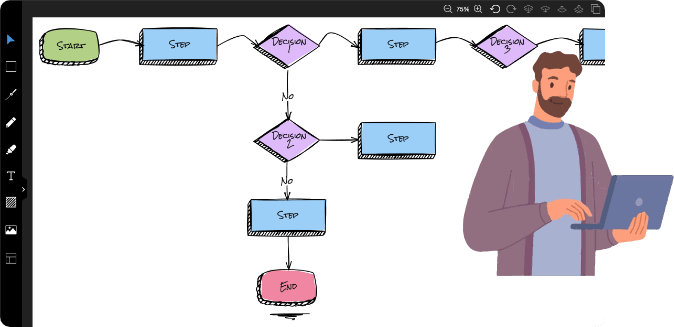 Choose from a variety of shapes and icons to explain your process, workflow or use case. SketchWow makes plain-Jane diagrams come alive.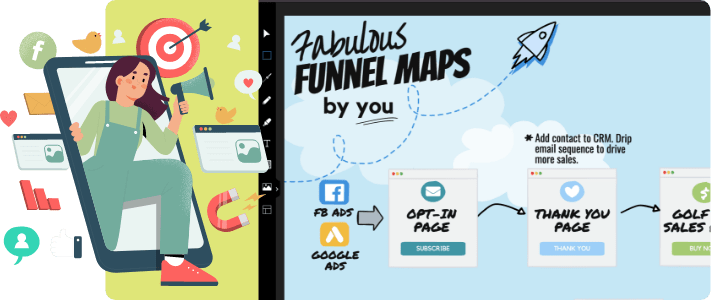 Digital Marketers
Ever heard the term "Purple Cow" coined by Seth Godin? It's about making your marketing so remarkable it stands out and gets attention.
What does the exact opposite? Using the same ole brochure template, cut-and-paste proposal cover pages and "stock photo" visuals as everyone else.
To really stand out, make your brand POP and express the unique products and services that you offer, try incorporating SketchWow sketches into your marketing process - from advertising, internal communication to prospecting and client retention. SketchWow is like the Swiss Army Knife of marketing design awesomeness.
Agencies & Consultants
Communicating complex processes, customer journeys or proposed services is not always a fun topic. It's easy to watch your clients eyes glaze over as they review your 25-part flowchart in Courier font. It's like serving dry toast with no butter.
How about dazzling your audience with catchy visuals that are not only fun to view... but clearly get your key points and message across. Plus, Gets people talking.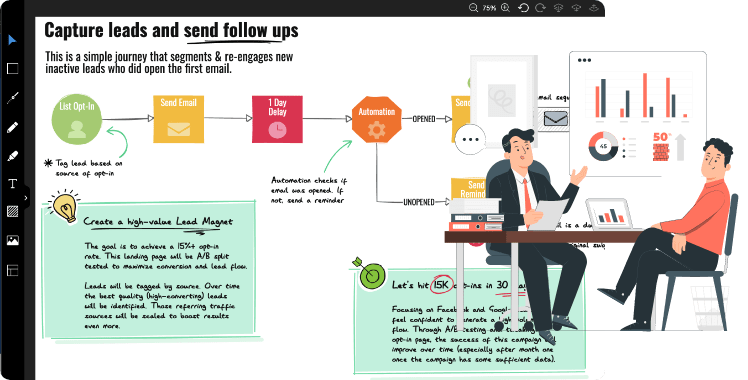 Next time you want to explain, present or communicate an idea... rather than reach for that 2009 trusty template seen by millions before you... let SketchWow be your secret-sauce for stunning sketches!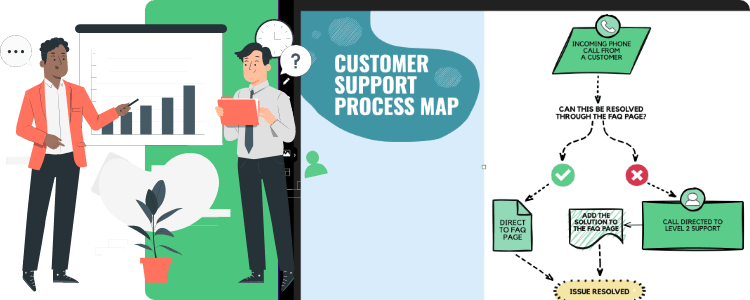 Businesses (Startups To Enterprise)
Whether it's internal or external... all businesses are driven by communicating ideas, processes, plans, changes and procedures. Not to mention... constantly pitching, promoting and positioning to gain market share. So many things to do.
There are dozens of tools out there that help you communicate your ideas and concepts. Often, the exercise of creating using these tools is daunting enough... leaving you uninspired and unmotivated to complete the task or do your best work. That was yesterday.
Our customers tell us that SketchWow provides a very different user experience. They actually look forward to whipping-up that next diagram or design using SketchWow.
Can you imagine that?
From artists to small town pool companies... non-profits to big banks... they use SketchWow (true fact!)
...and yes... Designers use SketchWow (can you believe it?). Even though SketchWow is built for non-designers, savvy pros appreciate how easy it is to knock-out catchy designs - and charge clients big-bucks too!
Did We Mention How FUN SketchWow
Is to Use?
Our customers tell us how much they enjoy using SketchWow - compared to all those dated, dull diagram tools from 2008.
Imagine if... you were excited to make (typically boring) diagrams, maps, journeys, flows, lessons or content. Try SketchWow and see for yourself.
If all this is starting to sound really good, It gets better...
Four more fantastic reasons to join SketchWow...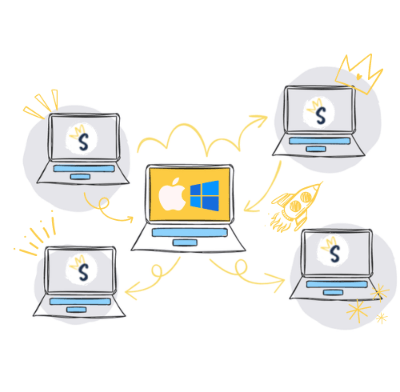 Install SketchWow on multiple computers
It's rare to own just one computer these days. Most software limits you to installing 1-2 computers. Not SketchWow. You can install your SketchWow software on all the PCs and Macs that you own/use.
What if your trusty old computer bites-the-dust and you buy a new one? No problem. You can install (or reinstall) SketchWow as many times as you like.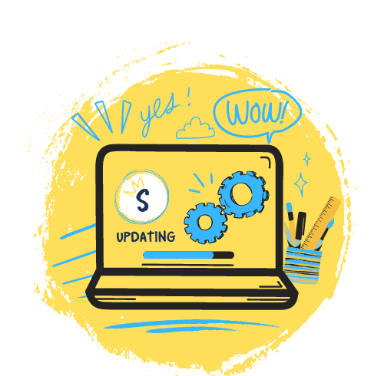 Includes FREE Software Updates
We get this question a lot... "Is SketchWow still being actively updated?".
You betcha! Some software companies add a new font every three months and call that an update. That's not how we roll. Every few weeks, we release a new update. 90% of these updates are based on feedback and suggestions from our valued customers.
Once you join us, don't be shy. Speak up. Let us know what you want. Your feedback is what drives our future features.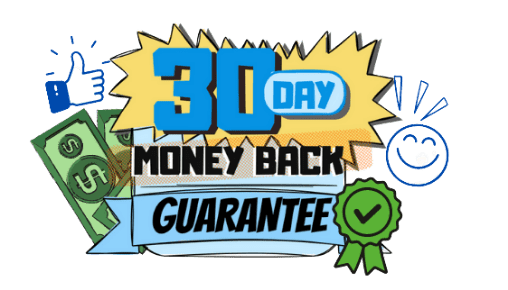 Start creating amazing sketches that stand out…
Built for speed

Spend less time creating & explaining. Simplify how you communicate your thoughts.

Zero learning curve

Crank out your first sketch in no time, without reading User Guides or watching tutorials.

No WiFi? No problem

SketchWow software installs on your PC or Mac. No more lost work when your Internet connection times out.
You'll Love SketchWow Too, Just Like Our Customers Do...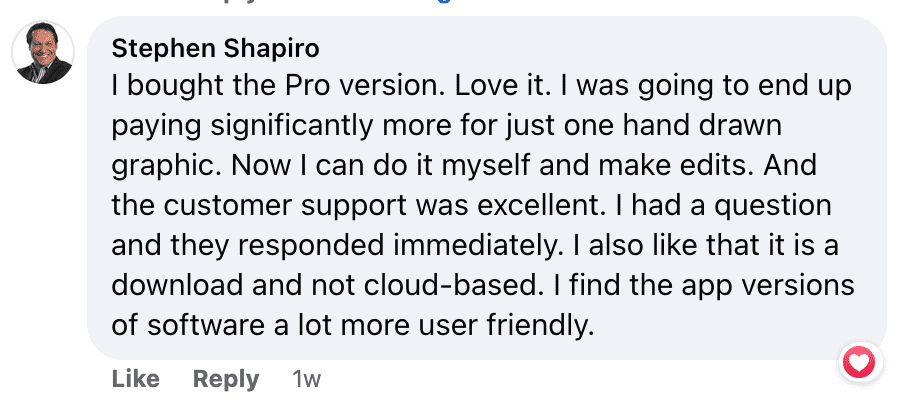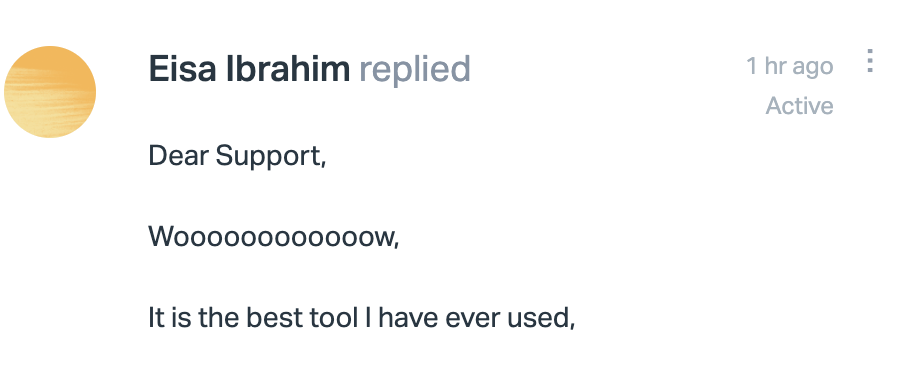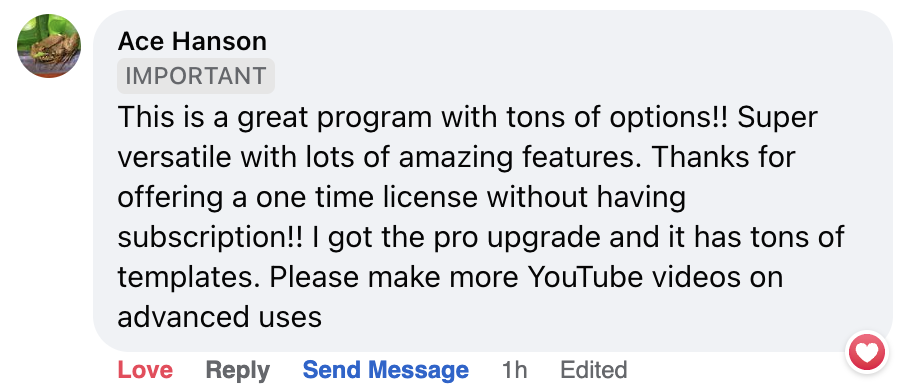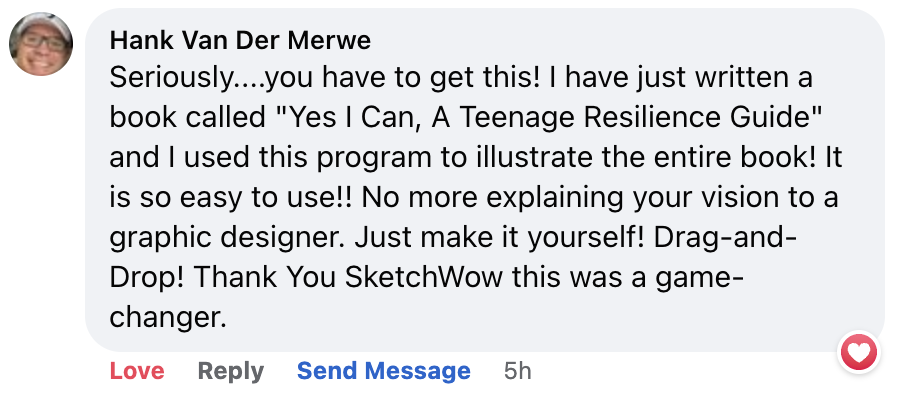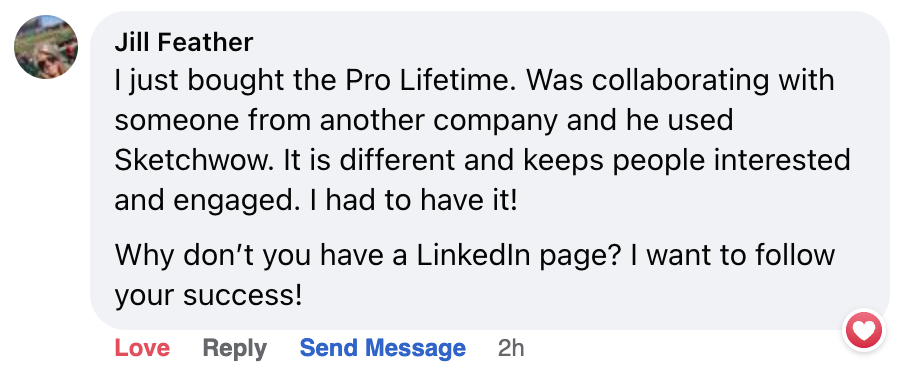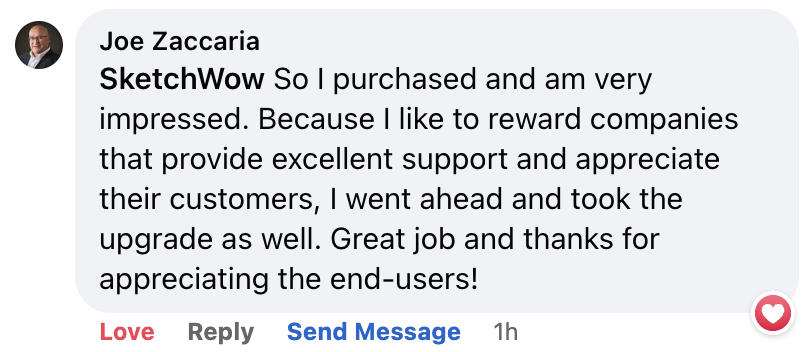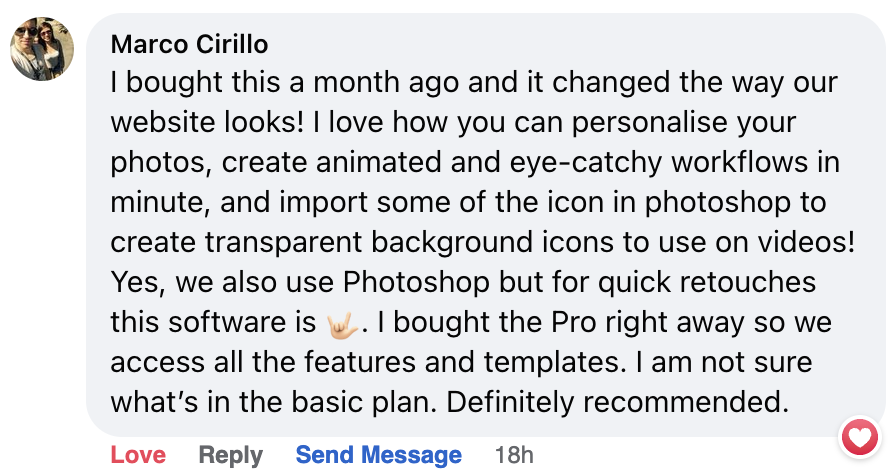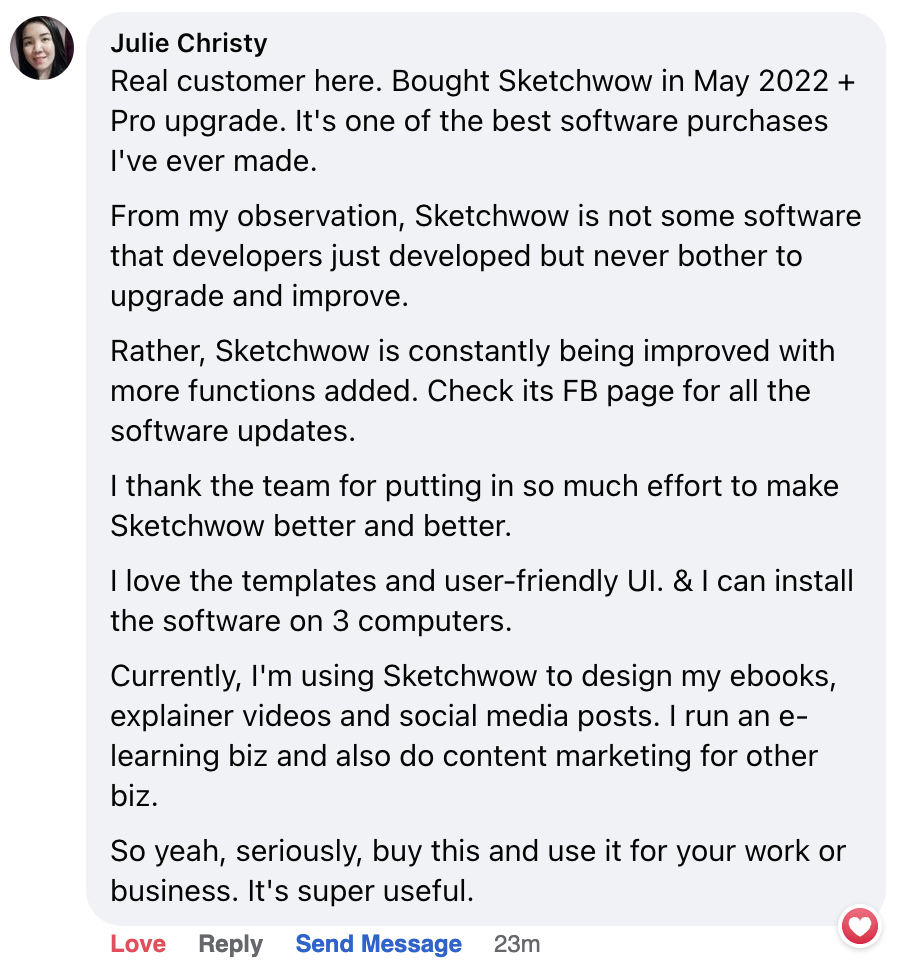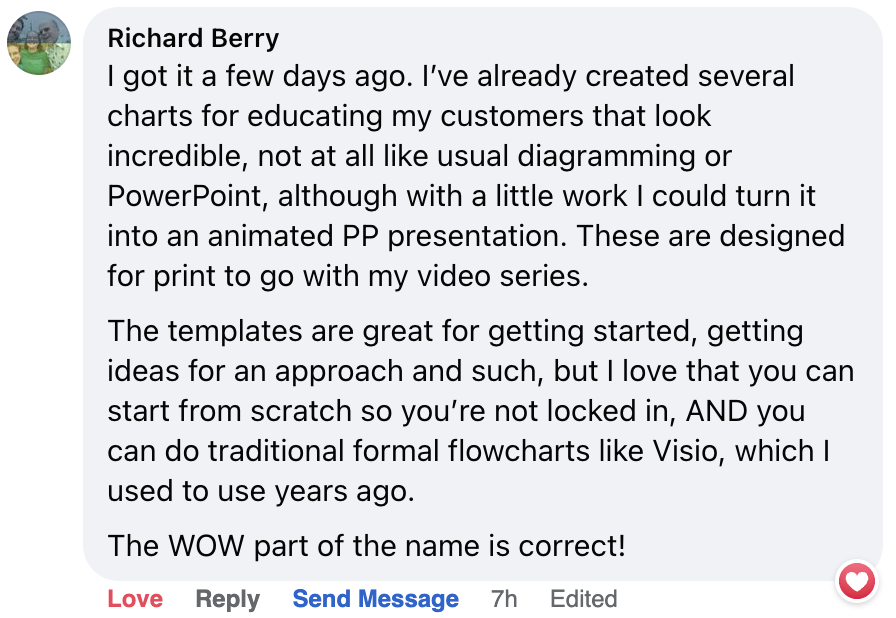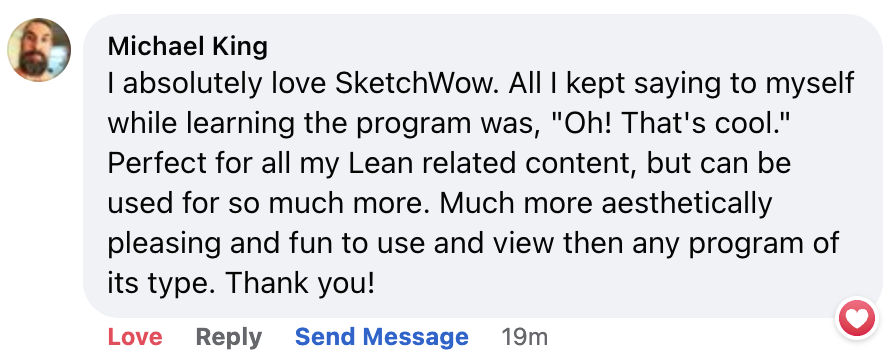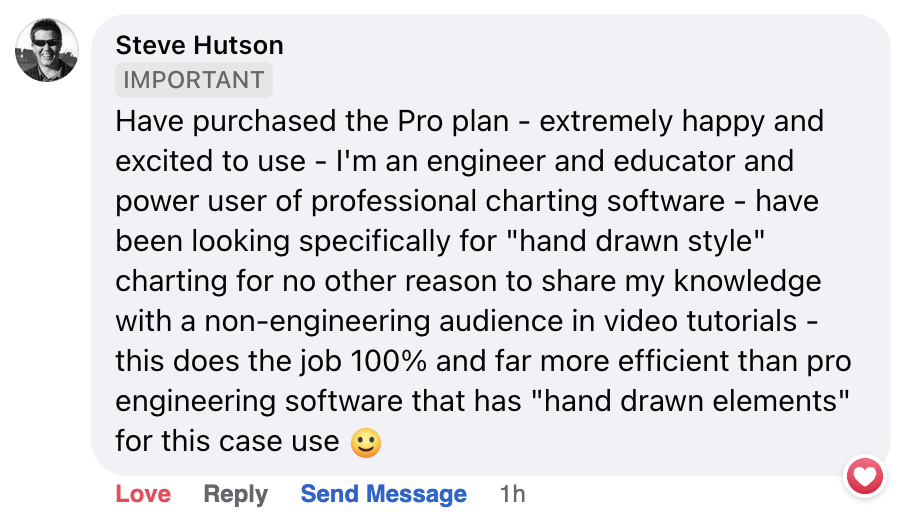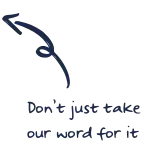 PLUS, When You Join SketchWow Today, You'll Get These Sizzling Bonuses!
Presentation Annotator
$39 Value
Are you creating presentations, recording your screen, hosting virtual or Zoom meetings... or do you plan to at some point? If so, you're gonna love this bonus!
Rather than conduct snooze-ville presentations, your SketchWow software includes a brand new annotation tool. This makes your presentations sizzle and boosts engagement and audience participation. How?
Picture this... with a few mouse clicks you can draw on the screen, add text/comments, click a Laser Pointer or Spotlight to highlight or zoom-in areas on your SketchWow slides. Also, you can "edit" you presentation in real time - move things around.
That's right.. no more typical static-slides. Imagine annotating in real-time in SketchWow and creating dynamic, interactive presentations that dazzle your audience! Plus, you can choose to save all your slide annotations too.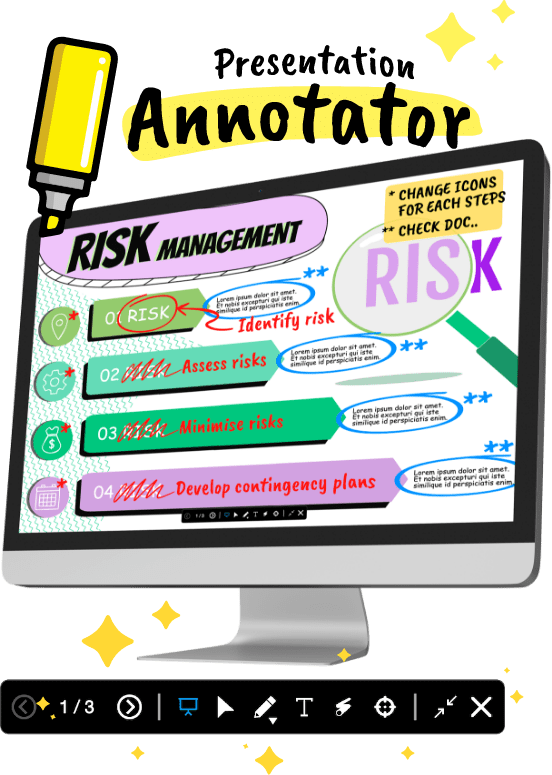 How much does SketchWow cost?
By now, you might be wondering… "Sounds good. But what is this gonna cost me?".
Keep reading. You will be pleasantly surprised…
When you consider all the features, functionality and large library of images, shapes and templates included in your SketchWow software… it's easy to see how the regular price of SketchWow adds up to $468 per year.
The good news is… because you found this special promotion, you'll get an exclusive offer that is not available anywhere else.
Instead of paying $468 every year, when you order from this Lifetime Deal page, you get SketchWow for a 1-time low payment of just $49 (with no monthly or yearly subscription fees and no restrictions). This includes free support and updates too.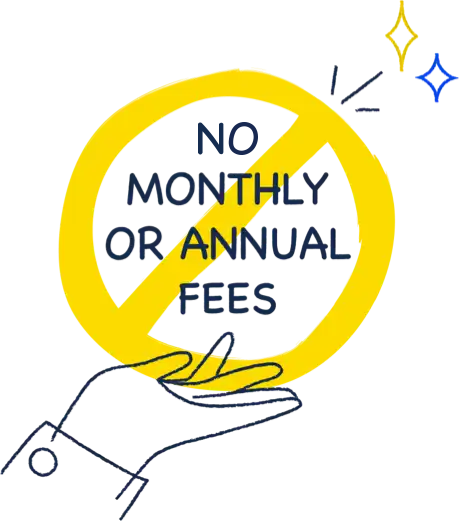 Go Lock-In Your Lifetime Deal On SketchWow Now!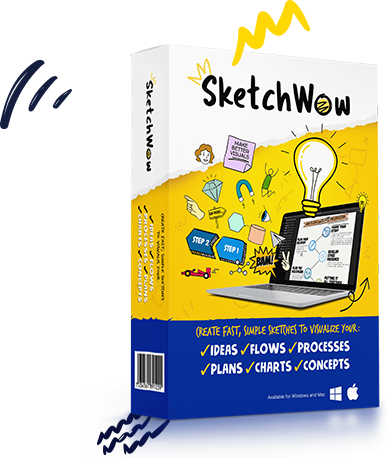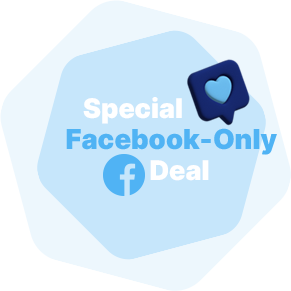 NOW ONLY: $49
1-TIME PAYMENT
ZERO MONTHLY / ANNUAL FEES FOREVER
30-Day Money-Back Guarantee
Go take SketchWow for a spin. You've got a full month to make up your mind. We think you'll fall in love with how simple & fun it is to create amazing, engaging sketches.
If for some reason you are not completely "Wow'd" by SketchWow within the first 30 days, simply email us at support@sketchwow.com. You'll get a prompt and courteous refund. We want you to be happy using SketchWow.